Tropos Incentive Testnet Reward Summary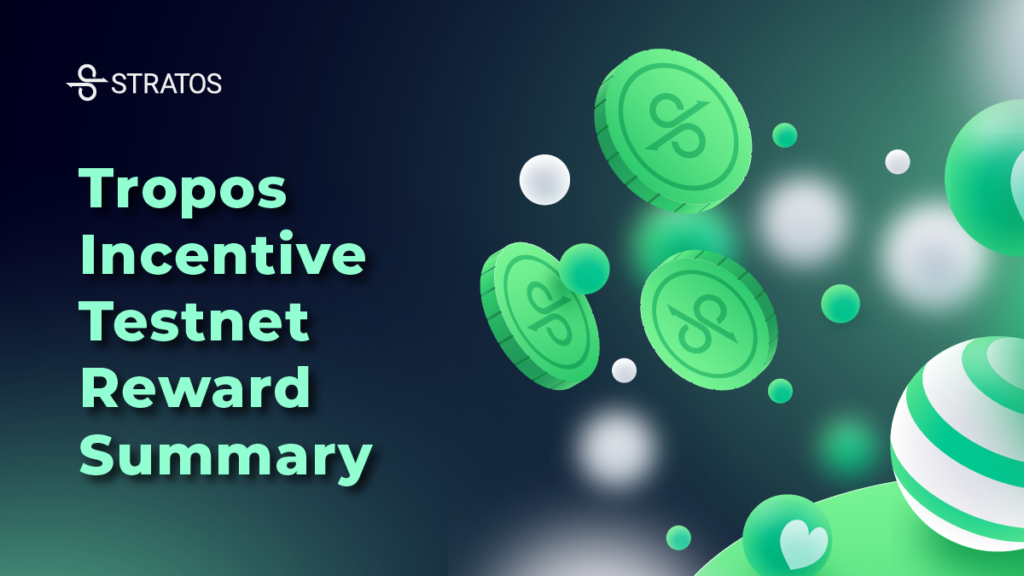 We are thrilled to announce that we concluded the Tropos Incentive Testnet last week on June-14-2023 06:23:56 PM -UTC. 🥳 Now is the perfect moment to delve into the captivating journey of the incentive testnet, a pivotal milestone within the Stratos Ecosystem.
2022-02-17, Tropos 1 Launch
2022-02-28, Tropos 2 Launch
2022-03-21, Tropos 3 Launch
2022-07-24, Tropos 4 Launch
2023-01-18, Tropos 5 Launch
(*Note: the dates are based on genesis creation time )
In Tropos 1 and 2, we encountered some issues which prevented the Stratos Chain and SDS metanode Proof-of-Traffic consensus from working unexpectedly; thus, we launched the first 3 Tropos networks rather quickly to address that. Tropos 3 marked the arrival of the first stable version of the Tropos. Tropos 3 also brings in the SDS node tier mechanism, which evaluates the node performance based on a tier system. With the Tropos 4 update, our focus shifted toward enhancing SDS node connectivity and connection security. This resulted in a remarkable improvement in SDS node reachability and overall stability.
The most substantial update arrived with Tropos 5, encompassing a comprehensive range of enhancements for SDS. Noteworthy features included SDS Auto-Scaling Replication, Resource Node Maintenance, RPC for both uploading and downloading, Suspended Node Data Transfer Mechanism, Node Performance Tracking and Monitoring, and Resource Node Monitor API. Following the successful launch of Tropos 5, our dedication to security remained unwavering. We diligently collaborated with the BlockSec auditing team to further fortify the security measures of both the Stratos Chain and SDS.
In conclusion, let's break down the exciting statistics related to the Tropos Incentive Testnet.
There are a total of 3.2989 million TROS issued during the whole period of Tropos, resulting in the conversion rate of TROS/STOS at 3.2989. 
We have witnessed 2968 wallet addresses earning TROS.
Among all wallets, the top-earning wallet has accumulated an outstanding 22204 STOS.
On average, each wallet has earned a respectable 336 STOS.
If you manage to earn 2809 STOS, you will be among the top 1% of all wallets.
There are 136 wallets holding a total of 137 STOS that have yet to complete the migration process for the address change from Tropos 4 to Tropos 5. Those rewards will likely be lost after the mainnet launch as their wallet address will not be correctly recognized.

You can find the whole list of Tropos rewards here.
We would like to extend our heartfelt thanks to all the participants of the Tropos Incentive Testnet. Your valuable contribution has played a vital role in identifying issues that can only surface during large-scale testing. Your dedication and effort are truly appreciated and have helped Stratos immensely. Thank you. 🙌 👊
Follow us at:
Twitter | Telegram Group |Telegram Announcement Channel| Medium | Discord | Reddit | LinkedIn