Stratos Monthly Report – September – October 2023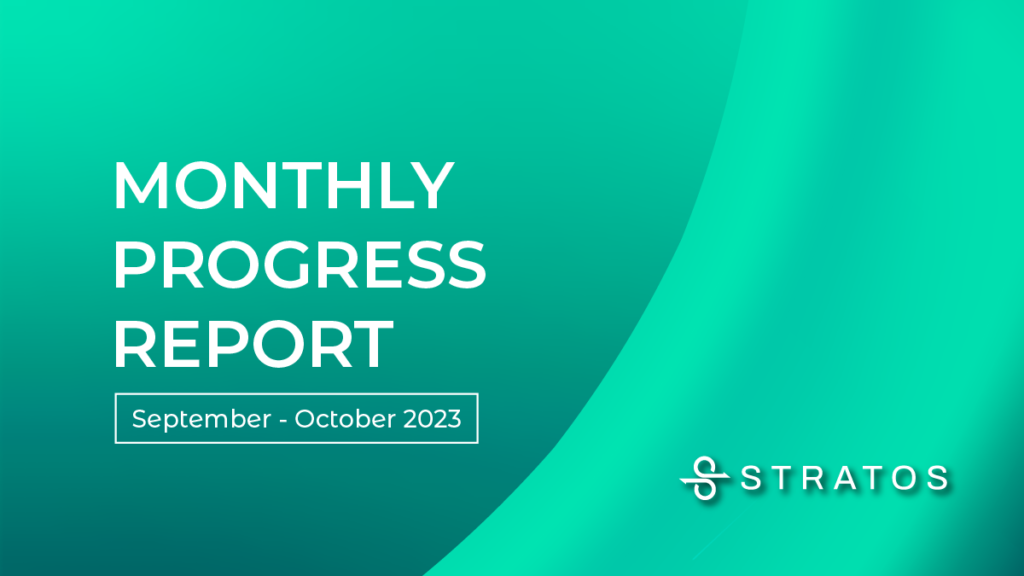 September and October have been one for the books for all of us here at Stratos. Following 2 years of diligent development and testing, we have achieved a major milestone with the successful launch of the Stratos Blockchain and Decentralized Storage Mainnet.
Technical
Stratos Chain Mainnet Launched on Sep 21

28 Active validators
9.5M STOS staked

Stratos Decentralized Storage Mainnet Launched on Sep 28

229 Resource Nodes registered

Exoswap Bridge Launched on Sep 25
3 update releases for SDS in October
Gate.io supports STOS native token deposit/withdraw
Marketing
Extensive Media Coverage for Stratos Mainnet Launch
Stratos received widespread recognition and coverage for the Mainnet Launch, with over 50+ news outlets featuring our network. Prominent names such as Yahoo News, Bloomberg, and others have highlighted the significance of Stratos in the blockchain and decentralized storage space.
Educational YouTube Campaign with Crypto Influencers
To raise recognition about Stratos and its mainnet launch and further engage and educate our community, we initiated an educational YouTube campaign in collaboration with renowned crypto KOLs. The campaign featured personalities like Lark Davis and Dapp Centre, who provided valuable insights into the Stratos Network and its capabilities. This campaign not only helped our existing community but also attracted new members.
Announced Stratos Developer Grant Program
Stratos is committed to supporting innovation and development to grow the Stratos ecosystem. We announced the Stratos Developer Grant program and have already received 10 applications from enthusiastic developers and projects. Currently, we are in the process of reviewing and discussing these proposals to select projects that align with Stratos's mission and vision.
Collaborations with Crypto Media
Stratos has been actively collaborating with crypto-focused media outlets to produce educational articles about Stratos Decentralized Storage. The articles have not only explained the unique value proposition of Stratos but have also generated greater awareness and interest in our solution. Key publications featuring Stratos include:
In conclusion, October was a month of significant achievements and collaborations for Stratos. Our team is filled with gratitude and pride for what we have accomplished together. We are excited about the positive response we have received and remain committed to our mission of providing efficient and secure decentralized storage solutions. Thank you for your continued support.
Stay tuned for more info and follow us at:
Twitter | Telegram Group |Telegram Announcement Channel| Medium | Discord | Reddit | LinkedIn