Stratos Launches Validator Bounty Program!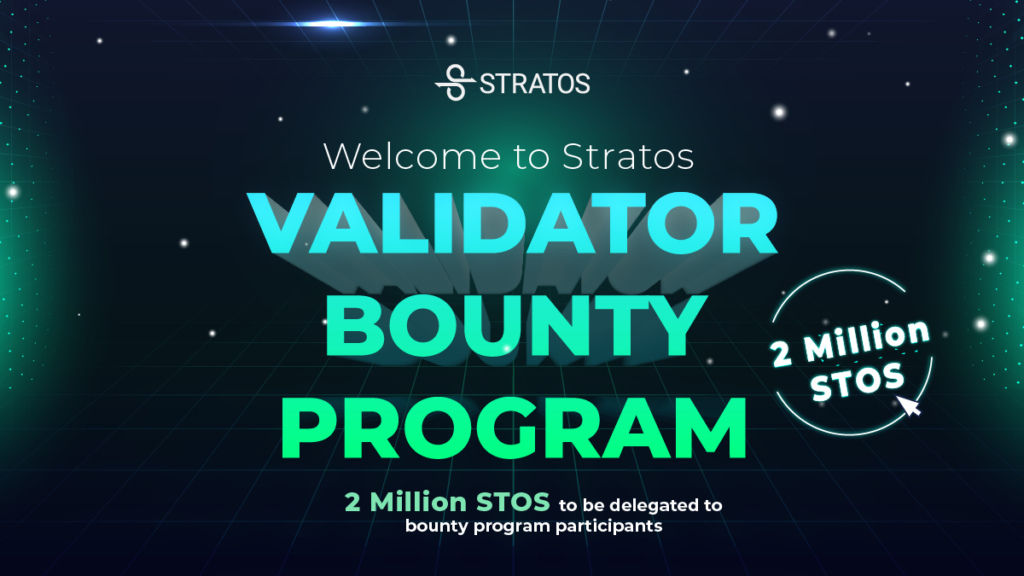 👋🎉 Welcome to Stratos Validator Bounty Program!
Stratos is on the verge of launching its Mainnet. As one of the most important steps in ensuring the mainnet is well-prepared, we are thrilled to introduce the Validator Bounty Program, that enables our valued investors to have stable validators to delegate their tokens. This initiative is crucial in our commitment to creating value for our communities stakeholders and promoting the widespread adoption of Stratos Network.
We would like to outline our plan for the upcoming Bounty Program. We intend to partner with a maximum of 20 professional staking service providers who will host Stratos validators. Under this program, each service provider will operate and run at least one Stratos chain validator that STOS token holders can delegate their staking to.
This bounty program involves delegating 100,000 STOS tokens to each of the selected staking service providers, thus 2M STOS delegation in total. These staking tokens will be sourced from the "Partnership" portion of the total token liquidity and dedicated solely to this Validator Bounty Program until its completion. By providing these delegation tokens, we aim to incentivize and motivate our staking partners to deliver optimal performance, thereby ensuring the overall success of the launch of the Stratos Network mainnet. Furthermore, any Staking service provider that joined the bounty program has priority access to run the Metanode once the Metanode network goes public.
Certain prerequisites must be met to qualify as a staking service provider for our Bounty Program. These requirements are essential to ensure that our staking service providers possess the necessary expertise and resources to deliver optimal performance and maximize the potential benefits of the ecosystem for all parties involved.
Has the technical capability to run/maintain a Stratos Chain Validator.
Has prior experience in running staking services for other projects with a total staking value exceeding 10M USD.
80% of the previous projects can last 3 months with 90% uptime.
Upon joining this Bounty Program, we will closely monitor the performance of our service providers to ensure they meet the following criteria:
Attract more than 500K STOS delegation in 3 months and hold them for more than 3 months.
Ensure the validator is running and maintain the voting rate to be more than 90%.
The commission rate for their validator should NOT be higher than 30%
Once the above requirements are achieved 3 months after the mainnet launch, the Staking Service Provider will receive at least 500 STOS extra as incentive.
In the event that a service provider fails to meet the established criteria, we reserve the right to take any necessary actions to ensure the proper functioning of the Bounty Program.
Kindly fill out the form to submit your application. Our team will review it and be in touch with you shortly. We appreciate your patience!
🤝🌱 🚀 We welcome all staking service providers to join us. We aim to create a mutually beneficial partnership that will promote the growth of the Stratos ecosystem while providing our token holders with an opportunity to earn substantial staking profits. By collaborating with us, staking service providers will have the chance to contribute to this revolutionary decentralized infrastructure network and become a part of our mission to build a solid decentralized cloud for Web3. Together, we can make Stratos a force to be reckoned with in the Web3 space. 
Stay tuned for more info and follow us at:
Twitter | Telegram Group |Telegram Announcement Channel| Medium | Discord | Reddit | LinkedIn