Stratos Launches Decentralized Storage Mainnet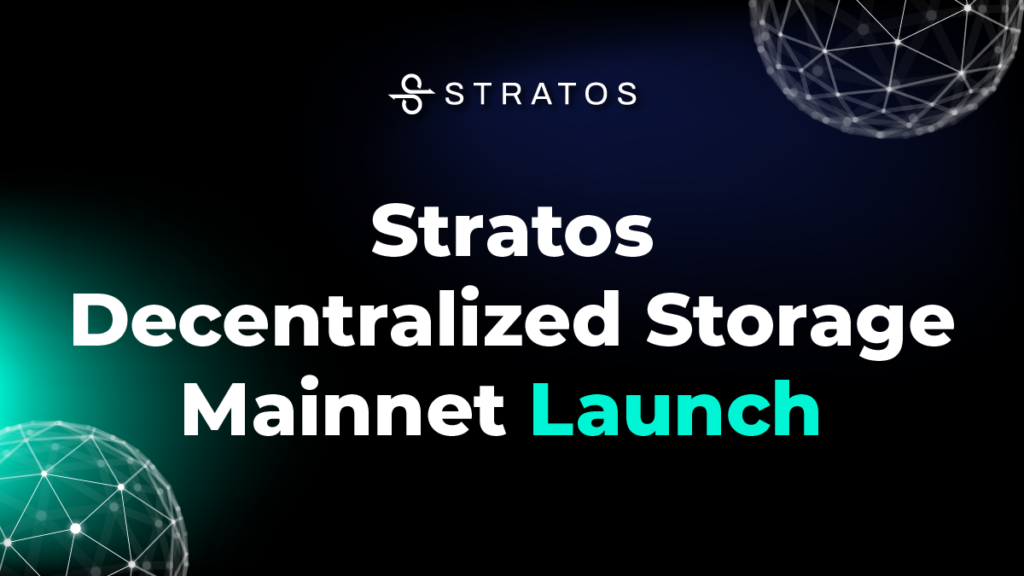 Stratos is thrilled to announce the highly anticipated launch of its blockchain and decentralized storage, Mainnet, on September 28th, 2023. This milestone marks a significant achievement in Stratos' mission to redefine the future of data storage and Web 3.0 infrastructure.
The Stratos Mainnet is designed to revolutionize the way data is stored, and transactions are executed, bringing unprecedented security, scalability, and efficiency to the blockchain industry. By seamlessly integrating blockchain technology with decentralized storage, Stratos empowers developers and businesses to build the next generation of decentralized applications (dApps) with ease. Stratos Decentralized storage is tailored for storing hot data, whether it's videos, audio files, documents or your Decentralized Application code. Stratos is made for your everyday data, and you only pay for the resources you use.
Key Numbers About Stratos Network Testnet:
2968 wallet addresses earned rewards during Tropos Testnet
400K resource nodes created during the Tropos Incentive Testnet
40K resource nodes are online at peak time
1,000,000 STOS issued for incentive testnet rewards
The Stratos Decentralized Storage Network offers a diverse range of use cases, making it a versatile and comprehensive solution in the world of blockchain technology. From GameFi and NFT storage to enterprise data solutions, Stratos provides a fully decentralized infrastructure for various Dapps. It excels in content delivery network (CDN) acceleration, ensuring efficient data transmission for a seamless user experience. Moreover, Stratos supports video streaming and empowers decentralized applications (Dapps) with its secure and scalable environment. This innovative architecture design is at the forefront of reshaping the Web 3.0 infrastructure, offering enterprise-level decentralized solutions to meet the evolving needs of the digital era.
The Stratos team is set to launch the 1 million STOS (the project's native token) developer grant offering financial and technical support for Web3 projects to build and launch on the Stratos decentralized data infrastructure network. Apply for Stratos Grant here: https://forms.gle/Njnonmoq8gCFaGu57
"We are excited to introduce the Stratos Decentralized Storage Mainnet to the world," said Bin Zhu, CEO and founder at Stratos. "Our team has worked tirelessly over the past 2 years to create a high-performance blockchain and fully decentralized storage solution that can empower developers and businesses to build the decentralized future they envision. We invite everyone, developers, builders and crypto enthusiasts to join the network on September 28th to witness the beginning of a new era in blockchain technology."
With the launch of Stratos mainnets, Stratos welcomes miners to participate in the network as the storage provider. Stratos Proof-of-Traffic consensus is purpose-built to reward network contributors based on their network traffic and utilization, making it a truly inclusive and incentivized network for all. Join Stratos network in shaping the solid decentralized infrastructure to provide high-performance decentralized storage services to the world.
Ready to embark on the Stratos storage revolution? Act now!

1️⃣ Document on how to set up an SDS resource node: https://docs.thestratos.org/docs-resource-node/setup-and-run-a-sds-resource-node/
2️⃣ Latest SDS release on Github: https://github.com/stratosnet/sds/releases/tag/v0.11.1
3️⃣ Learn more about developer grants: https://blog.thestratos.org/calling-web3-developers-apply-now-for-stratos-developer-grant-program/
Stay tuned for more info and follow us at:
Twitter | Telegram Group |Telegram Announcement Channel| Medium | Discord | Reddit | LinkedIn