Stratos Bi-Weekly Progress Report: April 20, 2022 – May 4, 2022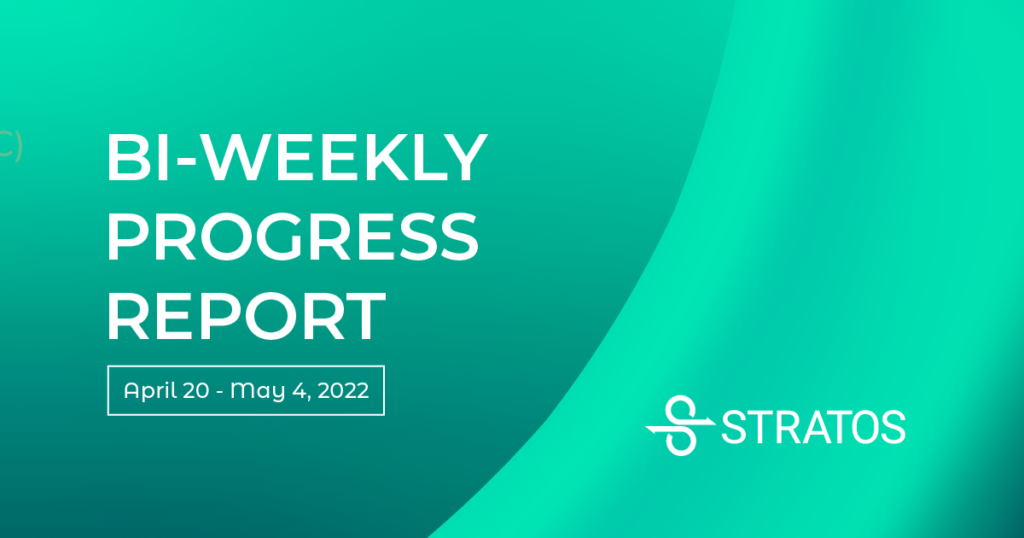 In this sprint, we have been focused on a couple of things regarding different components of Stratos:
Solving issues from the newly introduced node tier mechanism on Tropos
Enhancing the communication security of the SDS framework
Upgrading the Stratos Chain to a new dependency version
Mobile wallet testing
As a result, most of the issues regarding the tier mechanism are fixed, and the SDS network has been the most stable version so far. We have observed much more activities from the community doing uploading and downloading, which help us locate some performance bottlenecks on Stratos Chain and Meta node.
We finished the first security improvement on the SDS framework by enhancing the encryption for SDS P2P communication and started to do some more testing on the internal devnet.
The Stratos Chain upgrading is going on smoothly, it's a necessity because some of the performance issues on Stratos Chain are related to dependent libraries, and the EVM feature will be dependent on this upgrade.
The mobile wallet is being tested on different platforms, and we started working on the dark/light theme mode for the mobile wallet.
COMPLETED:
SDS framework P2P communication encryption
Mobile Wallet First Version
Node Tier Mechanism bug fixes
Meta node request frequency limiter
IN PROGRESS:
Stratos Testnet:
SDS replication procedure improvement
Meta node performance improvement
SDS RPC & SDK
Stratos Chain Upgrade and performance improvement
Monitoring dashboard
Stratos Website/Wallet & Apps:
Stratos Video Player
Stratos Filesystem
Node Monitor
Wallet mobile Dark/Light Theme
Stay tuned for more info and follow us at:
Twitter | Telegram Group |Telegram Announcement Channel| Medium | Discord | Reddit | LinkedIn