Stratos Bi-Weekly Progress Report: October 12,2022 – October 25,2022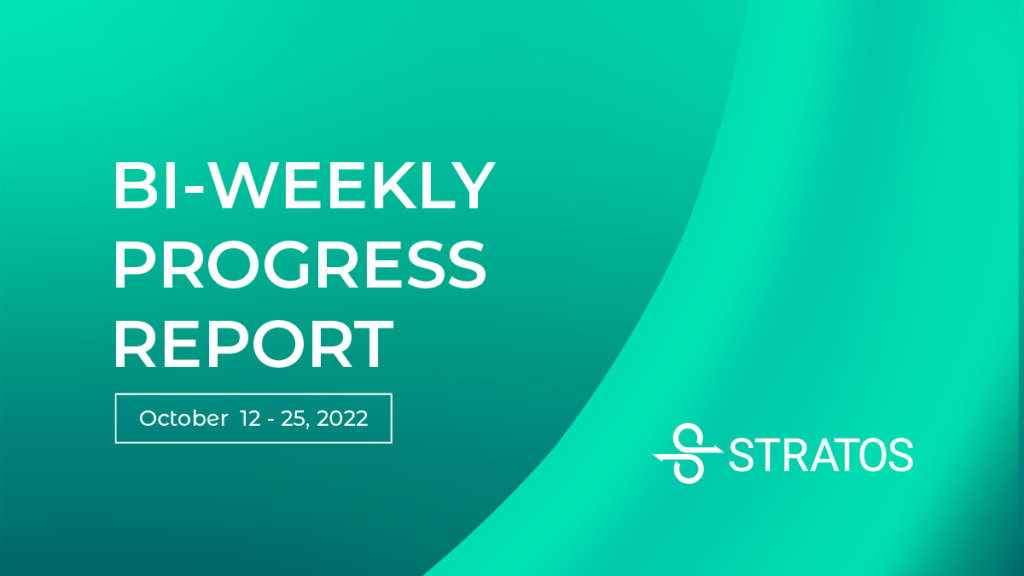 In the past sprint, we have finished the implementation of the most important features for Tropos-5, the Auto-Scaling up for the replication, and the suspended Node Data Transfer Mechanism. Currently, they are being tested on the devnet. 
In addition, we also started the scale-down implementation and Resource Node Maintenance Request functionality. The Maintenance Request will enable Resource Node operators to operate their nodes easier without being slashed during the scheduled maintenance period.
During the benchmark test with EVM, we detected some edges caused by the decimal precision difference between EVM and Stratos Chain. As a result, we have adjusted the decimal of STOS in Stratos Chain from 9 decimals to 18 decimals. This change will be released together with Tropos-5. This change will ensure that the Stratos Chain STOS decimal matches ERC20 STOS on Ethereum, making the Mainnet Token Migration smoother.
After adjusting the Resource Node Monitor API, we started to modify the influenced UI. The Resource Node Monitor Dashboard will likely be released along with Tropos-5.
COMPLETED:
Stratos Chain Token Denom Decimal Adjustment
SDS Suspended Node Data Transfer Mechanism(implementation)
SDS P2P Network Connection Improvement(implementation)
SDS Log and Error Improvement
SDS Auto-Scaling Replication(scale-up)
IN PROGRESS:
Stratos Chain memory leak Issue
Stratos Chain performance benchmark test with EVM
SDS P2P Network Connection Improvement(Testing)
SDS Auto-Scaling Replication (scale-down implementation)
SDS Suspended Node Data Transfer Mechanism(testing)
SDS Resource Node Maintenance Request
Metanode File/Slice Indexing Improvement
Monitoring dashboard UI
Stratos Decentralized Storage SDK
Stay tuned for more info and follow us at:
Twitter | Telegram Group |Telegram Announcement Channel| Medium | Discord | Reddit | LinkedIn