Stratos Bi-Weekly Progress Report: March 29, 2023 – April 11, 2023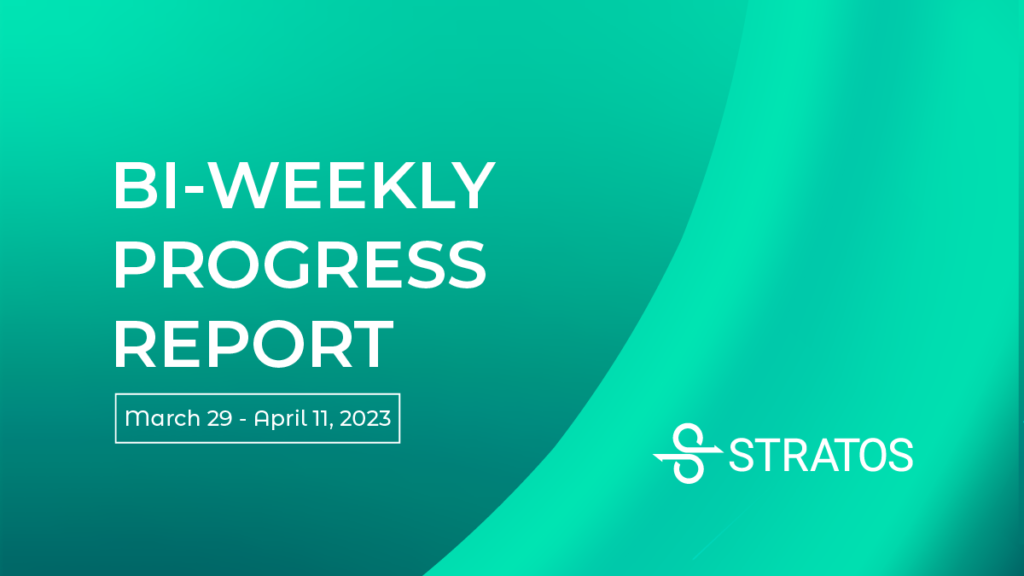 In the last sprint, we continued to focus on fixing issues based on feedback from auditing. Unfortunately, the team's productivity during this sprint has been slowed down by the recent freezing rain in Montreal, resulting in a prolonged power outage that has persisted for nearly a week.
The initial round of code auditing for SDS conducted by the Security Audit team has been completed expeditiously. During the previous sprint, remedial measures were initiated, and a significant portion of the issues discovered in Stratos Chain were resolved. Only two issues pertaining to the execution of volume reports remain, which are expected to be addressed during the ongoing sprint. Furthermore, one of the seven issues associated with SDS audit feedback has been rectified.
A new feature has been incorporated into the Metanode system, enabling users to assign specific resource node tiers for uploading files. This feature empowers users to opt for the expected resource node tier for the upload task, with a corresponding increase in the ozone charge. Business users can leverage this feature to ensure their uploads' expected QoS (Quality of Service). Additionally, it addresses the challenge of lower-tier resource nodes being assigned slices of large files, which could negatively impact the overall performance of file downloads.
The development of the bridge is progressing smoothly and without any significant delays. It is worth noting that we are on the cusp of completing the implementation of the bridge contract and the relayer development.
We are in ongoing discussions with exchanges and professional staking service providers to ensure a smooth and successful launch of Stratos mainnet. As part of our efforts to ensure a reliable staking ecosystem for our network, we will soon be launching a bounty program to incentivize professional staking service providers to participate in the Stratos mainnet launch. This initiative will provide Stratos community members with a greater number of trusted validators to delegate their tokens. Further details on this program will be communicated in due course.
COMPLETED:
Stratos Chain Issue Fixes based on Auditing Feedback(15/17)
SDS Framework Buffer Memory Allocation Improvement
SDS Issue Fixes based on Auditing Feedback(1/7)
Metanode Tier-Based Task Assignment(implementation)
IN PROGRESS:
Stratos Chain Mainnet Migration Bridge
Stratos Chain Issue Fixes based on Auditing Feedback(2/17)
SDS Issue Fixes based on Auditing Feedback(6/7)
Metanode Tier Based Task Assignment(testing)
Metanode File/Slice Indexing Improvement
Stratos Decentralized Storage SDK
Stratos Wallet Cloud Drive Application
Stratos Wallet Video Player Application
Stay tuned for more info and follow us at:
Twitter | Telegram Group |Telegram Announcement Channel| Medium | Discord | Reddit | LinkedIn