Stratos Bi-Weekly Progress Report: June 2,2022 – June 15,2022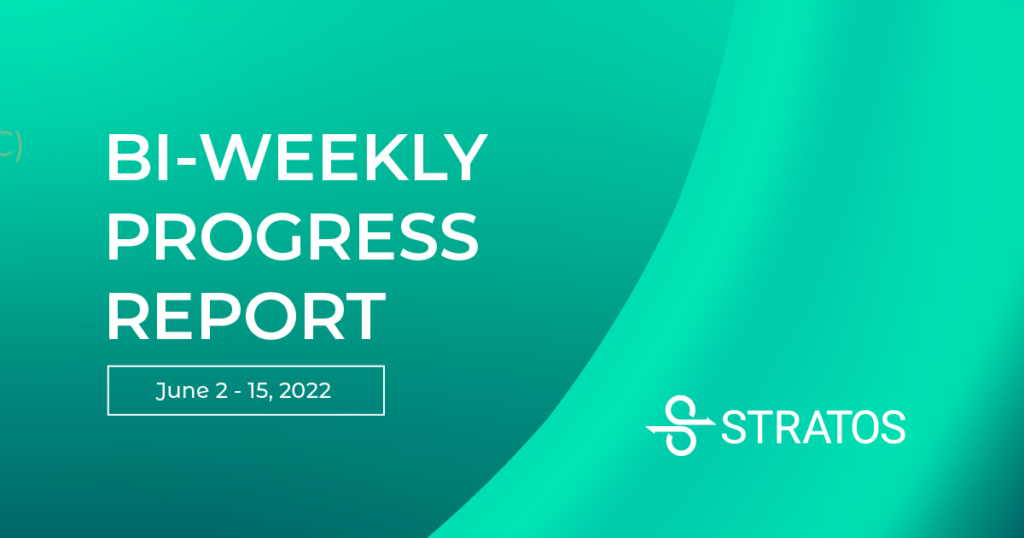 Stratos Meets Industry:
Stratos was represented by our Head of Marketing and Communications Claire Zhang at Consensus 2022, which drew 17,000 attendees from around the world this year. It was great to catch up with many of our investors and partners, spread the word on Stratos decentralized cloud and cultivate new relationships.
We had the pleasure of attending the "Building Web3.0" Forum organized by Atlas & Fundamental Labs and joining the panel discussing the importance of infrastructure for Web 3.0 & how Stratos is building a solid decentralized cloud solution to address the challenges.
Technical Update:
In this sprint, we continued to make progress in 4 major parts mentioned before: Stratos Chain upgrade, SDS RPC, SDS resource node workflow improvement, SDS metanode performance improvement.
Stratos chain upgrade finally reached the devnet testing stage. And the performance improvement on Stratos Chain is done. We have optimized all the tx execution and queries that have performance issues.
The development of SDS uploading RPC is completed. The download RPC development is in progress.
We have made improvements to the SDS downloading procedure to prevent multiple download tasks for the same file and added a new feature to provide the ability to rename the downloaded file as an option. The configuration file for the SDS project is upgraded for better persistence across SDS and Stratos Chain.
We continuously improve the metanode performance. We have improved the volume report generation code to decrease the generating time of volume reports from the minute level to the second level. These changes will be released together with Tropos-4.
The mobile wallet has some pushback from the IOS platform and is currently blocked. The next step will need to wait for the Tropos-4 release.
COMPLETED:
Stratos Chain performance improvement
SDS RPC(uploading)
SDS downloading procedure improvement
Metanode performance improvement(volume report)
IN PROGRESS:
Stratos Tropos Testnet:
Metanode performance improvement
SDS RPC & SDK
Stratos Chain Upgrade(testing)
Stratos Chain EVM support(testing)
Monitoring dashboard
Stratos Website/Wallet & Apps:
Stratos Video Player
Stratos Filesystem
Node Monitor
Mobile Wallet Multiple Platform Release Process(IOS/Android)
Stay tuned for more info and follow us at:
Twitter | Telegram Group |Telegram Announcement Channel| Medium | Discord | Reddit | LinkedIn