Stratos Bi-Weekly Progress Report: June 07 – June 20, 2023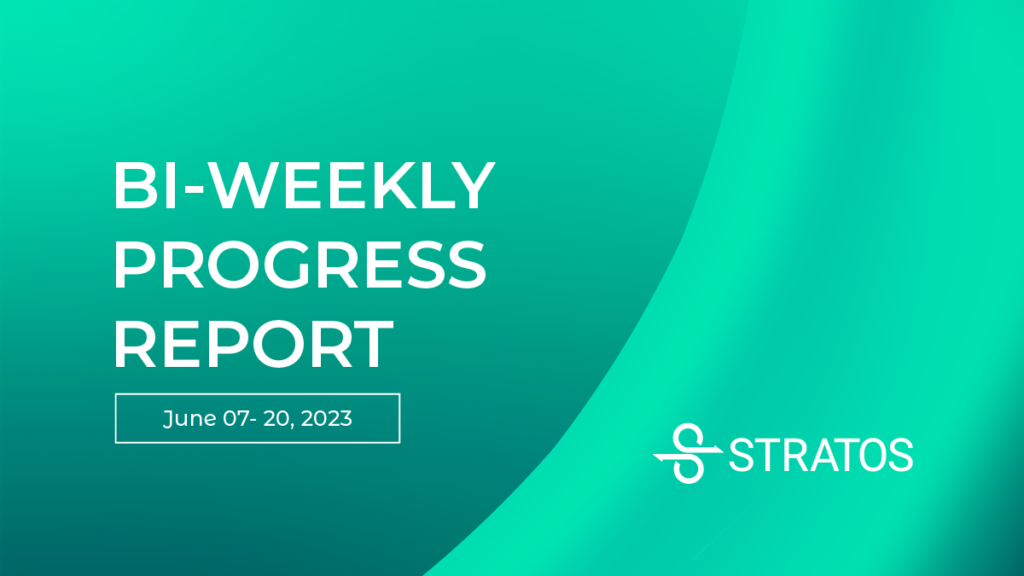 In the past sprint, the Tropos incentive testnet has finally reached its end. We have also published the final results of the rewards.
The last issue with the bridge is also fixed during this sprint. We are waiting for the final report on all the components, including Stratos Chain, SDS, and the Bridge(whose name has yet to be revealed). We are expected to receive the preliminary version of the final report in the next week or two. Once we confirm the final report's details with BlockSec, we will finalize the auditing stage before the mainnet launch. Then, our next step involves cooperating with exchanges to support STOS as the native token of Stratos Chain.
As mentioned before, a new testnet named Mesos will be introduced. This testnet will be the ongoing testnet even after the mainnet launch. Any forthcoming updates subsequent to the mainnet release will be initially deployed on this testnet. It is anticipated that Mesos will be live within the next two weeks. We will not make further announcements until the Mesos testnet is up and running. Rest assured, we will keep you informed as soon as everything is in place.
We have made an executable binary that can start an SDS node with the monitor UI. More work will be put into it as we continuously finish other steps towards mainnet. This UI will serve as the baseline of the SDS user interface, specifically designed for non-technical users. 
The SDS node configuration is updated to provide more explanation on each field. Additional improvements have been made to the code quality of the SDS repository, such as Video Streaming API, RPC examples etc.  
We have dedicated considerable effort to revamping the official website and it is set to be unveiled alongside the mainnet launch.
COMPLETED:
Stratos Chain Bridge Security Issue Fixes based on Auditing Feedback (7/7)
SDS Light Node Implementation
SDS Node Monitor Integration
SDS Configuration Improvement
SDS Video Streaming Improvement
SDS SDK (file sharing)
IN PROGRESS:
Stratos Documents update
Straos Chain Ledger Support
SDS Metanode File Share Indexing Improvement
Devnet Intensive Testing
Stratos Decentralized Storage SDK
Website Revamping 
Follow us at:
Twitter | Telegram Group |Telegram Announcement Channel| Medium | Discord | Reddit | LinkedIn