Stratos Bi-Weekly Progress Report: July 14, 2022 – July 27, 2022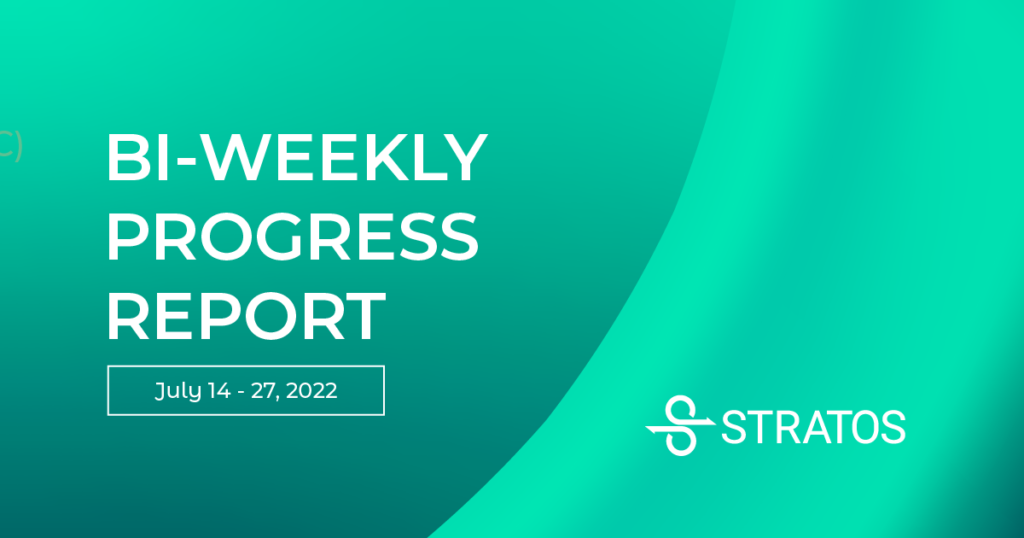 We successfully launched the Tropos-4 testnet in this sprint. We have achieved the most stable testnet so far. The uploading/downloading speed reaches a new high in the first few days. With the Tropos-4 launch, we are one step closer to the mainnet; we will communicate with the community about what steps are left for the launch of the mainnet in the next one or two sprints.
During the sprint, all focus is on the Tropos-4 launch. We have fixed various minor issues among Stratos Chain, SDS, Metanode. We also updated the Stratos Chain explorer with the launch.
We have finished most of the RPC endpoint for SDS nodes, and it's under testing in our dev environment. The next step is to develop the SDK for SDS, which will open up the ability to use Stratos Decentralised Storage Network without holding an SDS node.
We also completed the SDS node monitor metrics API and started to work on the authentication layer for it.
We have met a blocker that will postpone the release of the Stratos Mobile wallet where a dependency has significant performance issues introduced by the Stratos Chain upgrade.
COMPLETED:
Tropos-4 Launch
Stratos Chain Explorer update
Stratos Chain EVM (Tx override)
SDS RPC & SDK (Ozone balance)
SDS Monitor Dashboard (Metrics API)
IN PROGRESS:
Stratos Tropos Testnet: 
Metanode performance improvement
SDS RPC (testing)
Stratos Chain EVM support(testing)
Monitoring dashboard (Authentication)
Stratos Website/Wallet & Apps:
Stratos Mobile Wallet Multiple Platform Release Process(IOS/Android)
Stratos File System SDK
Stay tuned for more info and follow us at:
Twitter | Telegram Group |Telegram Announcement Channel| Medium | Discord | Reddit | LinkedIn