Stratos Bi-Weekly Progress Report: February 1, 2023 – February 14, 2023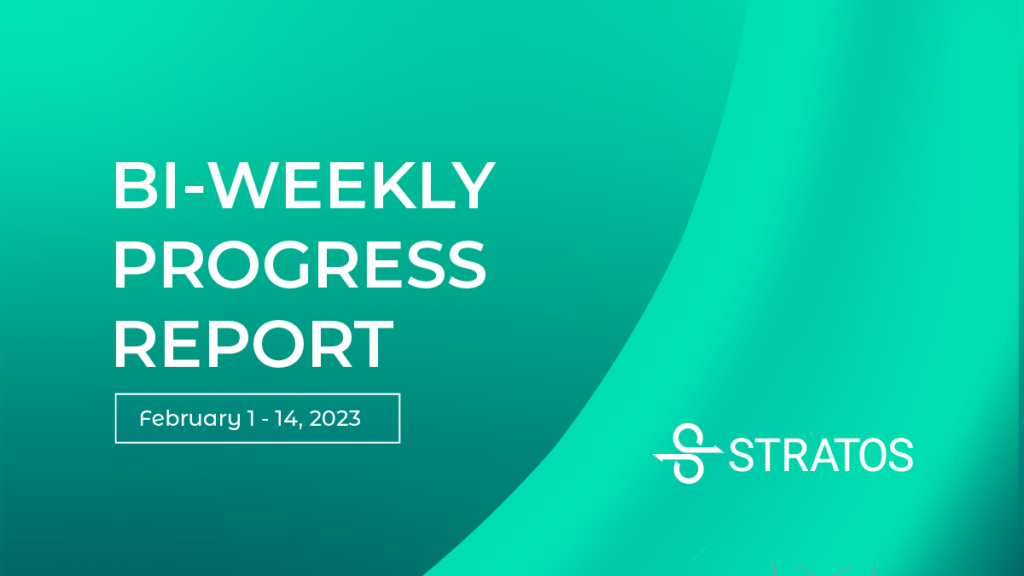 In the past sprint, we focused on testing Tropos-5 and preparing for security auditing.
We discovered some issues related to the implementation of Resource node speed tracking, certain scenarios will cause node scores to be deducted unintentionally. Additionally, we updated the Tx fee and gas calculation on the Relayer for Metanode, which caused some problems when Metanode attempted to broadcast a tx to the Stratos Chain.
We have prepared a separate Testnet that is different from Tropos. This Testnet will be used for security auditing, as the security auditing team will perform penetration tests and other tests that we don't want to interrupt the Tropos Incentive Testnet. It will also be more convenient to update for further testing if any loopholes are found and fixed. Additionally, we have prepared some SDS documents and aligned SDS code styles to simplify the auditing process.
The Stratos Desktop has finally been updated to Tropos-5 and will be available for download on our website soon. We have also begun working on wallet applications, such as Cloud Drive and Video Player, which use the Stratos wallet to access files stored in SDS.
In our latest strides, we have taken a significant step forward by updating the Stratos Chain EVM Web3 APIs. We proudly announce that a release candidate is readily available for release. The cherry on top is that this particular release will be a non-breaking release, giving testers the freedom to connect Tropos-5 using this release directly to test Stratos-Chain with EVM functionality. Additionally, our EVM-based explorer is now completely ready for Tropos-5, and can be accessed via https://web3-testnet-explorer.thestratos.org. To provide an even better user experience, we will prepare some informative documents that will guide our users on using the Stratos Tropos Testnet with EVM ecosystem tools, such as Metamask and so much more.
COMPLETED:
Stratos Chain Web3 API
Stratos Chain EVM-based Explorer
SDS RPC Documents
SDS Code Lint Fixes
Metanode Relayer Improvement(gas calculation)
Stratos Desktop Wallet upgrade to Tropos-5
Stratos Testnet for Auditing
IN PROGRESS:
Stratos Chain Legacy Encoding Update
Stratos EVM Ecosystem Registration
Stratos EVM Transaction Mempool Improvement
SDS RPC Performance Improvement(uploading queue)
Ozone Supply changes based on SDS Node Tier
Metanode File/Slice Indexing Improvement
Metanode Unindex File by Community Vote
Stratos Decentralized Storage SDK
Stratos Wallet Cloud Drive Application
Stratos Wallet Video Player Application
Stay tuned for more info and follow us at:
Twitter | Telegram Group |Telegram Announcement Channel| Medium | Discord | Reddit | LinkedIn