Stratos Bi-Weekly Progress Report: December 07, 2022 – December 20, 2022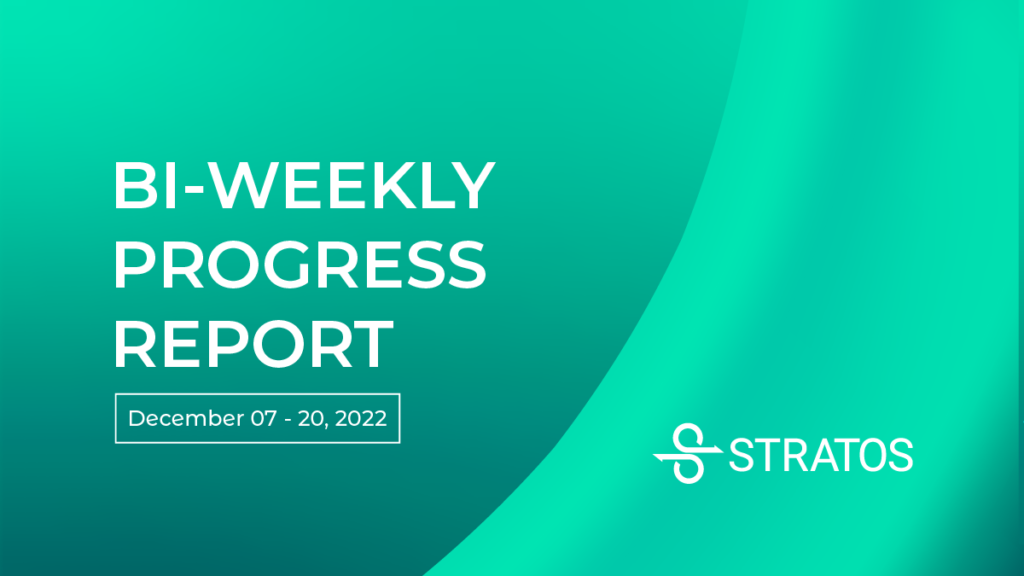 Over the past two weeks, we have been actively testing the devnet with all Tropos-5 features.
Our team has completed the changes to Stratos Chain Explorer and SDS to adapt account compatibility fixes. The only remaining component is the wallet, which we are working on. The updated SDS has passed the tests on Devnet.
A minimal gas price limit is added to the Stratos Chain. This is related to the recent changes in STOS decimal, which increased from 9 decimals to 18 decimals. The transaction fee could be configured too small by individual validators without the new minimal gas price limitation. We added a chain-level minimal value for the gas price.
We are investigating connection instability issues between Resource Nodes and Metanodes that occur when Metanodes and Resources Nodes restart frequently. Currently, a solution is being implemented.
The SDS RPC may cause memory overflows when processing high-volume upload/download requests. For the RPC, we are now adding a queue mechanism.
We have found the root cause of the Stratos Chain memory leak Issue, and are working on a fix.
This final bi-weekly report of 2022 concludes the year of heavy development for Stratos. Whether you've been with us since 2021 or have just joined us, thank you all for being part of our community. We couldn't have a successful Tropos testnet without all of you who participated and contributed.
We have put together a short video that highlights what Stratos accomplished in 2022. As we look back and reflect on the year 2022, we have grown our team, welcomed thousands of passionate community members, showcased and spoken at many different events and continuously optimized our products.
We look forward to seeing where 2023 takes us!
COMPLETED:
Stratos Chain Account Compatibility issue (SDS account convert, Explorer)
Stratos Chain Tx Minimal Gas Price
SDS Auto-Scaling Replication (scale-down test)
SDS Resource Node Maintenance Request(testing)
Metanode API Improvement(testing)
IN PROGRESS:
Stratos Chain memory leak Issue
Stratos Chain Account Compatibility issue (Wallet convert)
SDS Connection Stability Issue
SDS RPC Performance Enhancement(memory overflow)
Metanode File/Slice Indexing Improvement(testing)
Stratos Decentralized Storage SDK
Stay tuned for more info and follow us at:
Twitter | Telegram Group |Telegram Announcement Channel| Medium | Discord | Reddit | LinkedIn