Stratos Bi-Weekly Progress Report: August 30, 2022 – September 13, 2022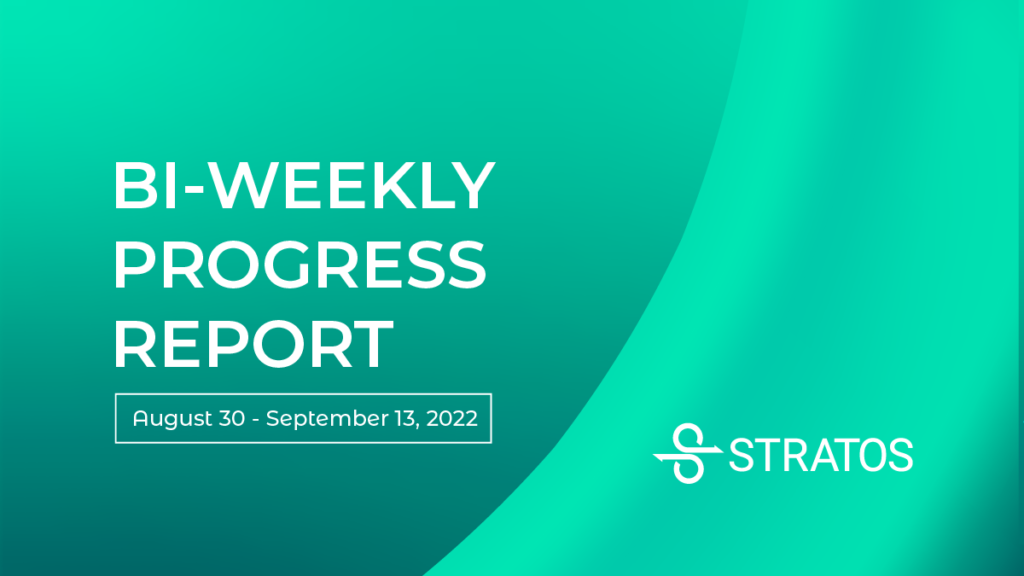 We started implementing Tropos-5 and mainnet features in the last sprint.
As part of our efforts to boost ecosystem building, we have added a community tax feature where a small percentage of traffic rewards will be charged as community tax.
The Stratos Chain memory leak issue we mentioned in the last report is introduced by cosmos-sdk, which other cosmos-sdk users are also reporting. This issue will continue to be investigated.
We have finished the improvement for the signature schema on SDS RPC, which provides better traceability and accountability for all RPC-related actions on a resource node.
A new feature was added that enables additional replication tasks to be assigned to newly registered resource nodes to help them ramp up with stored data. The feature will be included in Tropos-5, and it's part of Auto-Scale Replication features.
We also updated the desktop wallets for Mac and Linux, but the windows version is still pending. This update introduced a significant change in storing the encrypted master key format; as a result, desktop wallets created before Tropos-4 can't be used directly in the new version. By reimporting the wallets using the mnemonic words, they can be adapted to the new version.
COMPLETED:
Stratos Chain Community Tax for traffic
Stratos Chain EVM support(Document)
Stratos Desktop Wallet Update(Mac, Linux)
SDS RPC Signature Schema improvement
SDS new resources node replication task
IN PROGRESS:
Stratos Tropos Testnet:
Stratos Chain memory leak Issue
SDS Auto-scaling replication (scale-up implementation)
SDS Node Performance Tracking (Testing)
Monitoring dashboard API (testing)
Stratos Website/Wallet & Apps:
Stratos Mobile Wallet Multiple Platform Release Process(Android)
Stratos Decentralised Storage SDK
Stratos Desktop Wallet Update(Windows)
Stay tuned for more info and follow us at:
Twitter | Telegram Group |Telegram Announcement Channel| Medium | Discord | Reddit | LinkedIn