Stratos Bi-Weekly Progress Report: August 16 – August 29,  2023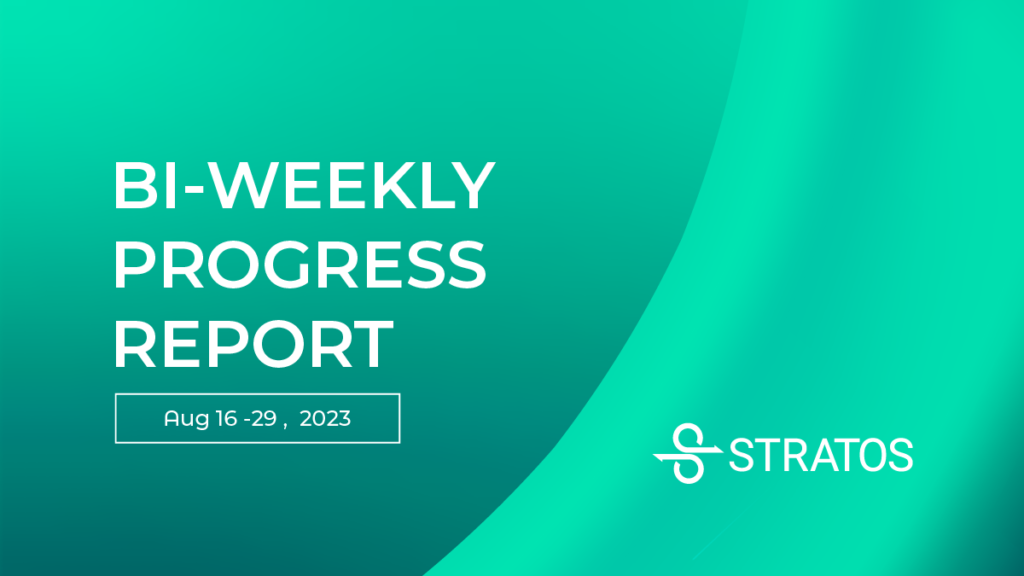 In the past two weeks, we have been preparing for the final test prior to the mainnet launch.
We have addressed and resolved some issues related to the SDS node operation, including the node IP address update, stream file over the limit, multi-terminal log, RPC request time issues, and memory allocation improvement. With all those fixes, we are releasing the v0.10.1 to the Mesos SDS network this week.
We are developing the SDS Network Metrics Dashboard to display the total number of nodes, estimated bandwidth, disk size, and geo-location of all SDS Resource Nodes.
The Validator Bounty Program application stage has come to a close. We have selected a few well-presented professional staking providers. We have initiated the cooperation process with them, and more updates regarding staking partners will be shared soon.
Additionally, the mainnet launch timeline has been published in this sprint. For the full details, please visit https://blog.thestratos.org/stratos-mainnet-launch-timeline/
It has been a long journey to keep the Stratos Community updated with this technical bi-weekly report since 2021. We are excited that we're almost ready to launch the mainnet, and the major developments for Stratos' most important two components have been finished. As we move forward, we've decided to change the regular communication strategy with the community from a technical focus to a more business/marketing approach. This means that this will be the final technical bi-weekly report.
After the mainnet launch, our monthly updates and newsletters will focus on business development and building the Stratos Ecosystem.
For all technical discussions and updates, it will be concentrated within the developer community. We will launch a dedicated Stratos Improvement Proposal(SIP) repository within our GitHub organization. We genuinely look forward to receiving support and significant contributions from the community to enhance the Stratos Ecosystem.
COMPLETED:
SDS Resource Node IP Update Issues
SDS Video Stream File Over Limit Issue
SDS Resource Node Multi-Terminal Log Issue
SDS RPC Request Time Issue
SDS Memory Allocation Enhancement
IN PROGRESS:
SDS Metanode File Share Indexing Improvement
SDS Network Metrics Dashboard
Metanode Metrics Improvement
Stratos Decentralized Storage SDK
New Website Implementation