Stratos Bi-Weekly Progress Report: April 26 – May 09, 2023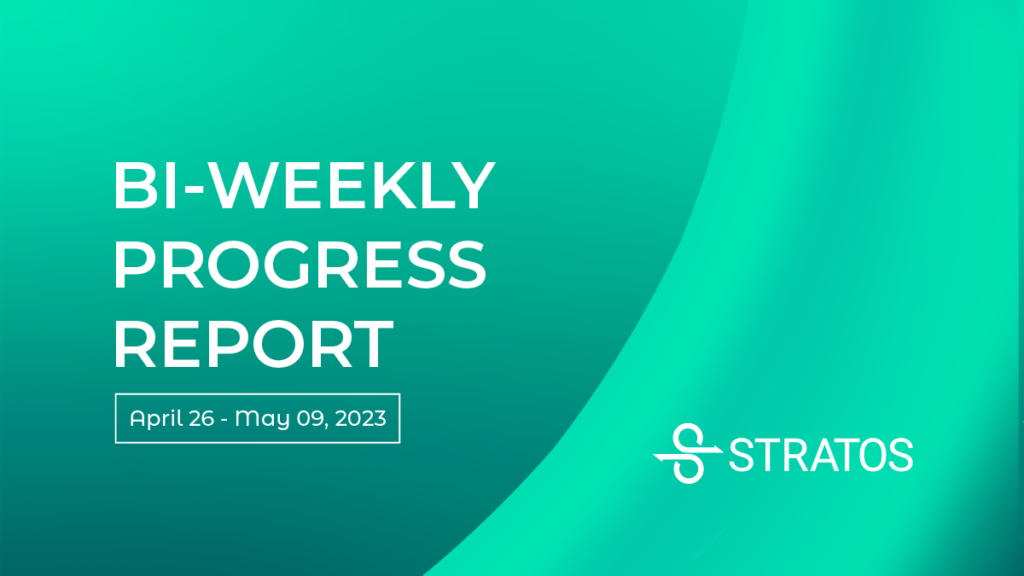 In the previous sprint, we dedicated our efforts to extensively test the fixed iterations of both Stratos Chain and SDS while also promptly resolving any issues that surfaced.
During the second round of the Stratos Chain review, the auditing team identified 7 new security issues. And the SDS feedback will be provided with this sprint. We started to work on the fixes this sprint and located a couple of issues based on our test on Devnet.
An issue with SDS arises from a racing scenario, which prevents resource nodes from unsuspending themselves. To tackle this, we are streamlining the process of unsuspension for resource nodes. Additionally, there is a problem with the status report for SDS resource nodes, where an invalid disk usage report can lead to Metanode ceasing to assign new tasks to the affected node. This is one of the reasons why some community members reported that their node traffic has dropped significantly after running for a couple weeks. We are actively exploring other potential causes of this unexpected behavior.
To safeguard the block validation process of Stratos Chain, we have implemented a limit on the number of STOS that can be bridged out via the Stratos Chain's bridge. This measure was taken because if more than one-third of the total STOS supply is bridged out, it poses a risk to the block validation process. Therefore, the bridge now includes a restriction that prevents more than the configured amount of STOS from being bridged out of the chain.
Our Docker images for Stratos Chain and SDS resource nodes have been updated. It will assist new users in launching relative nodes.
We are planning to establish a program called " Stratos Improvement Proposal" that caters to the developer community's needs with a standard proposal launch procedure to follow after the mainnet. This move is geared towards incentivizing more talented developers to contribute to the Stratos Ecosystem in diverse ways.
COMPLETED:
Stratos Chain Issue Fixes based on Auditing Feedback(17/24)
SDS Issue Fixes based on Auditing Feedback(9/9)
Stratos Chain Docker Image
Stratos Bridge Token Supply Limitation
SDS Resource Node Usage Metrics Fixes
SDS Resource Node Docker Image
IN PROGRESS:
Stratos Chain Mainnet Migration Bridge(UI)
Stratos Chain Issue Fixes based on Auditing Feedback(7/24)
SDS Video Streaming Improvement
Metanode Tier-Based Task Assignment(improving)
Metanode Memory Leak issue
Metanode File/Slice Indexing Improvement
Stratos Decentralized Storage SDK
Stratos Wallet Cloud Drive Application
Stratos Wallet Video Player Application
Stay tuned for more info and follow us at:
Twitter | Telegram Group |Telegram Announcement Channel| Medium | Discord | Reddit | LinkedIn