Calling Web3 Builders: Apply Now for Stratos Developer Grant Program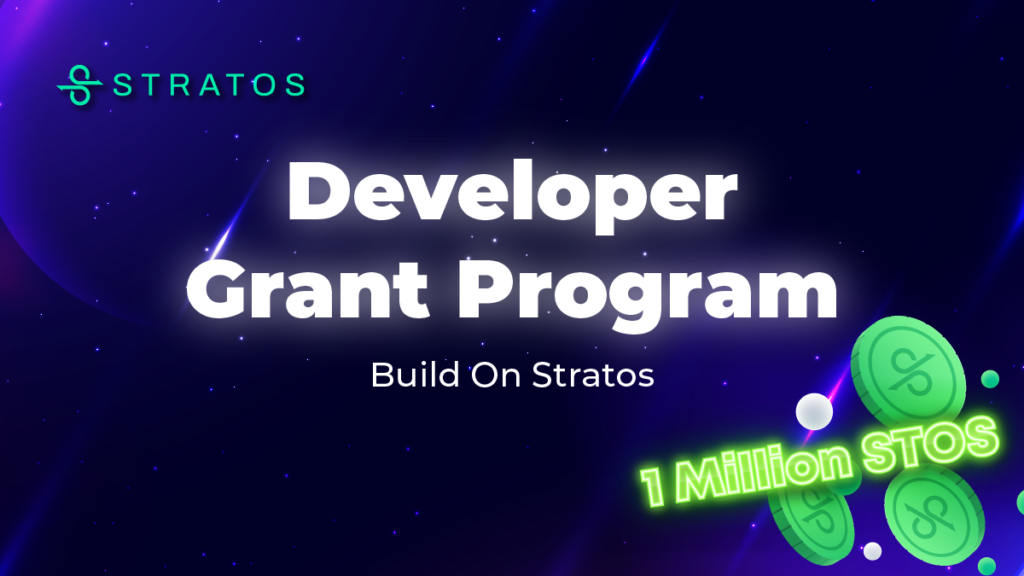 We are excited to announce the first round of the Stratos Network grant program, up to 1 Million $STOS tokens, to offer projects, individuals or creators all around the world non-dilutive funding to further accelerate the growth of the Stratos ecosystem.
Grant Application and Review Process
Applicants can apply for one of the suggested grant categories below. These suggestions are tailored to current ecosystem needs and are intended to help provide applicants with ideas of what to build on Stratos Network. Applicants are encouraged to apply for a grant that could further benefit the Stratos ecosystem, even if not found on the below list.
Grant Categories:
Developer tooling, SDKs, libraries, documentation, guides, tutorials
Core protocol contributions: token standards, libraries, protocol upgrades, etc.
Open source & public goods
Applications (e.g. DeFi, NFTs, Social Networks, Gaming, DAOs, Payments, Bridging)
Initial Criteria:
Applicants must meet the following criteria to be eligible for a Stratos Network grant:
Projects must provide new substantial value to the ecosystem. We are looking for strong, creative projects that bring passion and new ideas to the Stratos decentralized Storage or Chain.
Projects must be open-source or commit to a timeline for open-sourcing.
We will offer grants globally except for individuals or entities in sanctioned jurisdictions.
Review Process
All grant application submissions are reviewed by the Stratos Network team.
Following an interview, applicants will receive a decision on their grant proposal.
The grant agreement will then be shared with the team to execute and move forward to be funded by Stratos Network.
Please note that grant funds are distributed in $STOS tokens. In the future, we may also opt to distribute $USD to help incentivize long-term ecosystem growth for all parties.
How to apply for a Stratos grant
Join Stratos Network and Apply Now!
Feel free to contact grants@thestratos.org for questions and more information about the Stratos grant program.
Stay tuned for more info and follow us at:
Twitter | Telegram Group |Telegram Announcement Channel| Medium | Discord | Reddit | LinkedIn