Stratos Bi-Weekly Progress Report: January 3, 2022 – January 14, 2022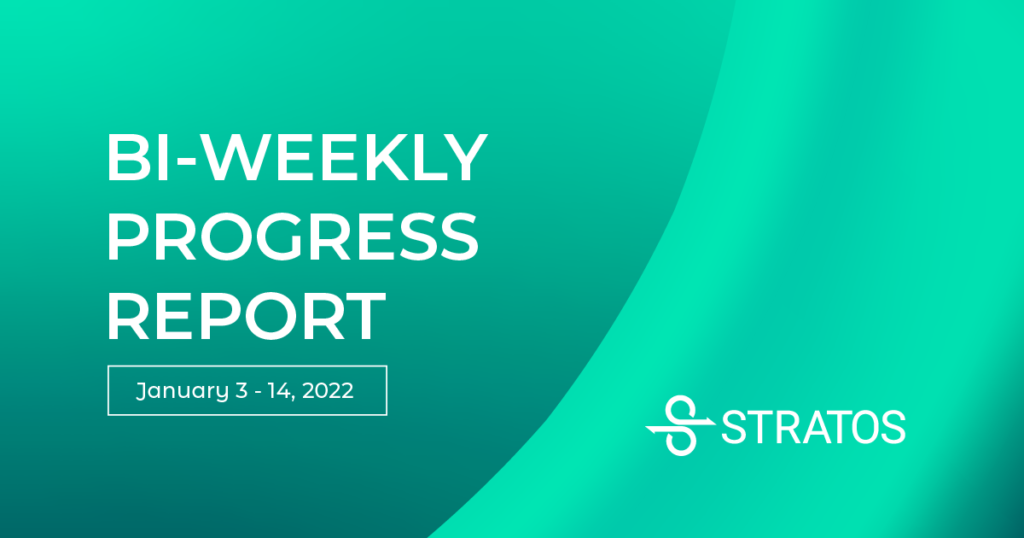 2021 has been an exciting, challenging, and fruitful year for Stratos; it was also the year we proudly launched our project. The team faced many unexpected difficulties and problems we had never seen before, but we tackled them one by one and achieved marvelous results. Many memorable moments from team forming, fundraising, IDO, community growth, Stratos Chain and Stratos Decentralized Storage testnet launches, three exchange listing events, multiple partnerships to Stratos wallet web application launched in three versions. Stratos team always puts in the maximum effort to make them successful, and because of that, we have earned trust from our investors, community members, partners, and users. We set solid foundations in 2021, and we will continue to grow exponentially and achieve more in 2022.
After returning from holidays, the Stratos team immediately progressed on multiple critical tasks. We have fixed multiple issues with validators and helped our community members to troubleshoot the problems they encountered. The mining reward and Tendermint migration have been completed successfully. Some issues reported by the Ubuntu users on the wallet app have also been fixed, and a new package for Linux distribution can be downloaded on the Wallet page of Stratos website: https://www.thestratos.org/. Last but not least, the Stratos team wishes everyone who has been believing, supporting, and rooting for Stratos a happy, healthy, and prosperous year 2022!
COMPLETED:
💎 Mining reward
💎 Tendermint migration
💎 Validator issues troubleshooting and fix
💎 Volume report
💎 Node monitor UI
In Progress:
Stratos Testnet:
1️⃣ Incentive testnet testing
2️⃣ PoA consensus testing
3️⃣ Node status metrics
4️⃣ Task report and store
5️⃣ File upload and download testing
Stratos Website/Wallet & Apps:
1️⃣ Stratos Video Player
2️⃣ Stratos Filesystem
3️⃣ Node Monitor
4️⃣ Wallet mobile version
Stay tuned for more info and follow us at:
Twitter | Telegram Group |Telegram Announcement Channel| Medium | Discord | LinkedIn